Arseniy Salay spoke at the largest esports conference eSPORTconf Ukraine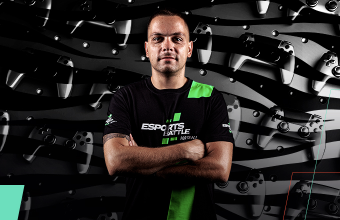 Arseniy Salay, head of the ESportsBattle Academy and Vice President of the UAEF, spoke about sports simulators and esports education at the main esports event — eSPORTconf Ukraine. The conference brought together the leaders of the esports community of Ukraine and the CIS countries. Attendants talked about the industry's current state, its most profitable areas, and the specifics of managing esports teams.
The speakers also shared their experience of creating and promoting esports businesses and talked about the further development of Ukrainian esports.
Arseniy spoke about the development of efootball in Ukraine: "We attract a new audience that previously wasn't interested in efootball. We create opportunities for them to join the community, participate in tournaments and become successful."
The second block of the speaker's speech was about the benefits of education in esports. "Our goal is to help students become professionals. We understand that the market is huge, and the prospects are enormous. Therefore we are happy to partner with universities and other organizations and work for the benefit of one common goal," comments Arseniy.
In conclusion, Arseniy Salay added: "In our niche, the pandemic has boosted the development of the industry and attracted additional attention from followers of classic sports, media, and brands."
ESportsBattle Academy is an educational platform for beginners in FIFA, CS: GO, NBA, and esports professionals.