ESPORTSBATTLE AGREES PARTNERSHIP WITH UESF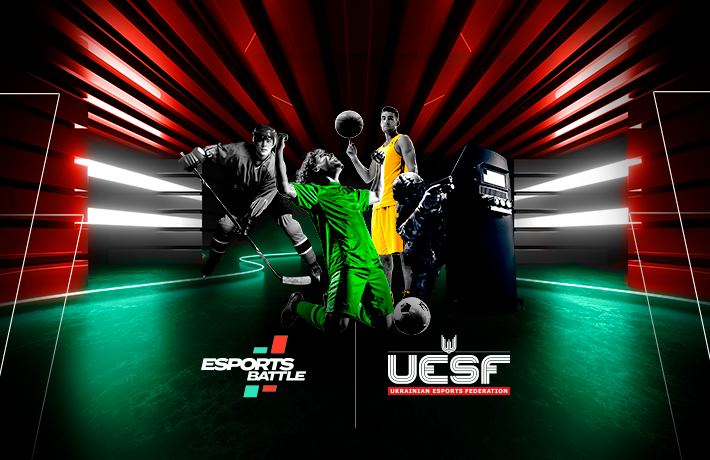 Starting January 2022, ESportsBattle has become an exclusive partner of the Ukrainian Esports Federation (UESF).
In July 2021, the Ministry of Youth and Sports of Ukraine granted the Ukrainian Esports Federation national status. The main mission of the UESF is to popularize and drive esports growth.
UESF received national status, as well as the rights and powers to hold official competitions, launch educational programs, form a network of official training bases for national teams, assign titles and ranks to players, and perform other actions necessary for the development of esports in Ukraine.
ESportsBattle and UESF will help develop and promote esports in Ukraine. All ESportsBattle events will be included in the calendar of the Ministry of Youth and Sports of Ukraine.
"Signing a partnership with UESF is of great importance to us. Esports takes a new step in its development. Collaboration with UESF proves that ESportsBattle is being recognized by serious organizations. We are focused on long-term and productive cooperation," commented Nikolay Vernydub, Head of Strategic Projects at ESportsBattle.
Artur Yermolayev, President at UESF, commented on the partnership:
"We are proud and pleased to sign a partnership with ESportsBattle. We share the same view on esports development. In the nearest future, we are planning to launch a series of joint projects aimed at helping athletes build a professional esports career."
Together, organizations will be working on a program aimed at the development of esports players' careers. Esport players who take part in UESF tournaments will be able to improve their skills at ESportsBattle Academy, an educational platform for aspiring FIFA, CS:GO, ebasketball gamers, and esports professionals. The main goal of the Academy is to popularize esports and raise the level of professionalism of specialists in this industry.
UESF and ESportsBattle will take action against players involved in match-fixing. Currently, ESportsBattle and UESF are working on preventative measures against unfair play.
ESportsBattle is the general sponsor of all tournaments organized by the UESF, including the Ukrainian Cup, the Ukrainian Championship, the European Football Championship, and more.
ESportsBattle is the largest esports platform in Ukraine, which includes an esports academy, national tournaments, quality and stable matches 24/7, as well as unites and supports the community of esports players and fans.
UESF was founded in January 2018 as a public organization dedicated to the development of esports. The Federation has held more than 400 tournaments, both national and international, in which more than 50 thousand athletes took part. Today, UESF is a member of a number of international organizations, including IESF, GEF, EEF, WESCO, and B&R International Esports Association Alliance.