ESportsBattle interview with Vladislav 'VPbysik' Podyuchenko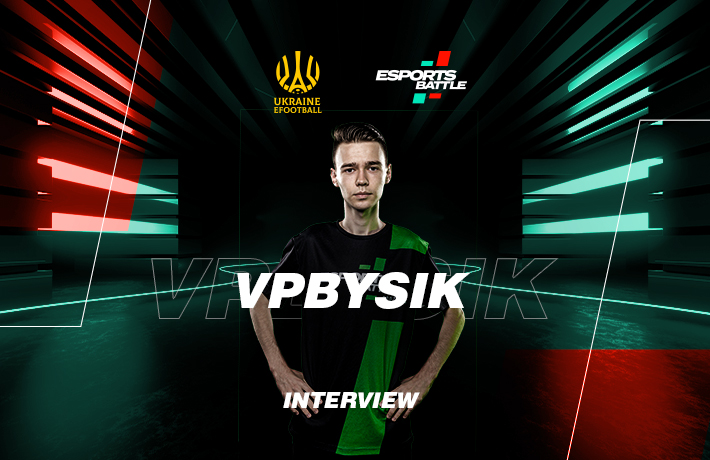 The first stage of the ESportsBattle FOOTBALL LEAGUE was recently held among amateurs. We did a short interview with Vladislav 'VPbysik' Podyuchenko, ESportsBattle Academy coach, who took third place in the tournament.
Hi, Vlad! Are you satisfied with the result of Stage 1?
Yes, I am satisfied. Of course, I would like to take first place. Yet I got into the top three, which is also a great result!
Stage 1 is just the beginning of the season. I got to know my opponents and have gained experience that will help me improve my gaming skills further.
Tell us more about the tournament.
The first stage went well: I controlled the ball most of the time and easily created space for the game. Though towards the end, the game got more challenging.
Overall, I enjoyed the tournament. It was an exciting experience, and I am grateful to all the players.
What confrontation turned out to be the most interesting for you?
I believe that games with solid opponents are perceived to be more enjoyable. I liked playing with 'LaikingDast' — we played intense games with amazing highlights. You can watch a recorded match on the ESportsBattle YouTube channel.
How did you prepare for the tournament?
I worked on strategy and played a lot. I spend an average of 8 hours per day playing games. As you can see, I get enough practice.
What are your plans for 2022?
My goal is to take first place in the AMATEUR Division ESportsBattle | FOOTBALL LEAGUE. I've earned 80 ESportsBattle Points on Stage 1, and I'm already preparing for the next stage. I also started streaming my games on Twitch. Check me out there — esb_vpbysik is my nickname.
Please share with us your favorite football and efootball players.
Ronaldo is my favorite football player. I respect him for his diligence; I like his playing style. You can feel his winning spirit.
If talking about efootball players, then 'Tekkz' is my favorite. I like the way he thinks. Tekkz has a great reaction speed and effectively uses body feints. He also has great passing vision.